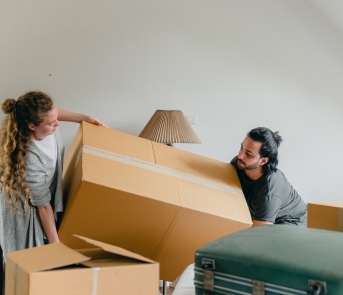 Have you found a house? Then it's time to move to Groningen soon. Before you move, it's good to take care of a few things in advance, and there are also tasks to complete once you've arrived. On this page, you'll find the information you need.
Before You Move
Before you definitively come to Groningen, there are a few important things to arrange. Make sure you have a house before heading this way and take the time to find suitable accommodation. Additionally, it's wise to check in advance if you have the correct documents to enter The Netherlands. If you're planning to stay for less than 3 months, you might just need a Visa, a tourist visa. You can find more information about this on the Netherlands Worldwide website. If you're coming for a longer period, you'll likely need a permit that allows for that. There are various permits available in The Netherlands. The International Welcome Centre North (IWCN) has provided a helpful overview so you can determine which permit applies to you.
When you arrive
Once you've arrived in The Netherlands, there are a few things you'll need to take care of. The first thing is to register yourself with the municipality where you'll be living. IWCN has a page where you can find more information about your municipal registration. Additionally, it's convenient to open a Dutch bank account to ensure you can make payments everywhere. On the 'Opening a Bank Account' page of IWCN, they provide more information about this process. When you're settling in the Netherlands and working here, you'll also need to arrange a DigiD. And while you certainly hope not to need it, it's also good to familiarize yourself with the Dutch healthcare system. The website Healthcare for Internationals offers all the useful information you need. The platform I Am Expat has compiled an overview of Dutch insurance.
Support
Are you looking for more information or do you need assistance? Several organizations in Groningen are eager to help you get started. Below, you'll find a few helpful entities: