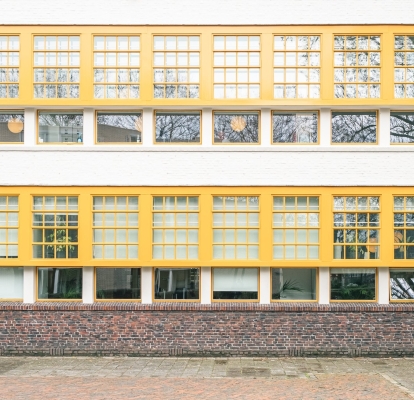 Whether you are a start-up entrepreneur looking for the ideal place to incubate your business ideas, or an established businessperson looking to network and expand, Groningen has a rich co-working scene and countless office spaces, where your business plans will become a reality in a collaborative and growing environment. The opportunity to brainstorm, collaborate and share knowledge opens the door to boundless creativity and new business opportunities. Below is an overview of some coworking spots and office spaces in Groningen:
De Pijp Groningen
The most pleasant workplace in Groningen: De Pijp. Here, entrepreneurs come together, and the most beautiful collaborations arise. The historic location next to the pop venue Simplon on Boterdiep naturally sets the tone. But just as important is the mutual atmosphere in De Pijp, which can almost be called friendly. The Friday afternoon drinks, table tennis and spontaneous game nights certainly contribute to this! But more importantly: here you can be who you want to be and do what suits you.
Het Paleis
Het Paleis is a cultural building where artists, designers, entrepreneurs and culture lovers can meet and inspire each other, where living and working go hand in hand. Het Paleis offers space to 10 companies that feel connected and/or work within the creative industry.
The Mediacentrale Groningen
The Mediacentrale Groningen is the place in the North where creatives, bright minds and hard workers work under one roof. At the Mediacentrale in Groningen, you can rent office space, technical space, business space, a sound studio and/or film studio. Flexibility is always the key: you can choose from 1 to 200 workstations and from 15 to 3,000 m2 of space.
R&D Hotel
On the Zernike Campus, the R&D Hotel provides a platform for researchers and entrepreneurs which focuses on Food & Health, Medical Technology, Pharma and eHealth. The facility is designed to meet the demands of individuals on the go who need a flexible working environment. Here you will find spaces for both preparation, consultation and communication.
Workmode
Workmode has become the place for enterprising women who want to develop into smart and powerful entrepreneurs. Workmode offers women co-working spaces in various locations including in Groningen at the Damsterdiep.
Kwilt
Kwilt is emerging as the new hub for creative entrepreneurs in Groningen. Located on the lively Suikerterrein, they are creating an abundance of workspace. Whether you are looking for an office space, a flexible workspace, or a pleasant corner in the sun-drenched park, at Kwilt you will soon find what you are looking for. For moments of relaxation and inspiration, the park invites you for a stroll.
Werkplek050
Werkplek050 is a unique concept. They offer a solution for vacant real estate and can therefore offer inexpensive workplaces, flex spaces and office spaces in beautiful locations! They are located at the Hereplein in Groningen, so feel free to walk in.
Eiland van Groningen
Space to work independently or together in peace and quiet: Eiland van Groningen. A panoramic view, fast Wi-Fi and amazing flex-work spaces provide a bomb of inspiration. Every fourth Friday of the month, you can come in for a trial day or part of a day, with no obligation.
Nordgard
Nordgard is situated at an ideal location in the city of Groningen, at the Korenstraat. Within two minutes, you can find yourself in both the lively city center and the Noorderplantsoen. At Nordgard, you always have your own dedicated workspace equipped with everything you need. Additionally, there is a meeting room where you can hold discussions in a peaceful environment.
If you want to rent your own location instead of sharing a place. Take a look at the website overview below:
Kantoor Groningen
At Kantoor Groningen you rent cheap and flexible office spaces at unique locations in Groningen. Filter on your needs and see the overview appear. The Kantoor-Groningen team knows the office market in the city very well. They know what is going on and have insight into supply and demand.
Funda in business
Funda in business. The largest selection of commercial properties in The Netherlands. Enter your requirements and see if there is something suitable. Funda is a website where many locations are listed, but inquiring at brokerage offices in the city or region for further options is always advisable.
Flexas.com
Looking for an office can be a daunting task, but not for Flexas. The specialists are happy to guide you in your search for the perfect office! Every company is unique and has different needs.
CareX
The creative industries, artists and other start-ups may be able to qualify for affordable rentals of vacant properties through CareX, a local organization that manages vacant offices and industrial properties throughout the region.