Afwerki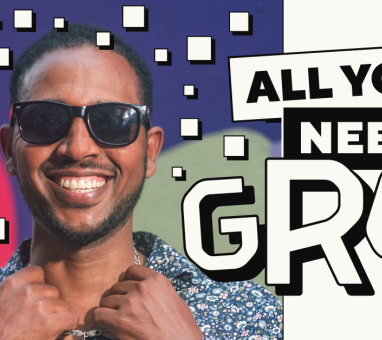 "If I have questions or need help with something, I can always ring the bell at my neighbor's house."

Afwerki Mebrahtom Gebremeskel, 32, was surprised by the liveliness and welcoming vibe of the people in Groningen. He is originally from Eritrea, but has been in Groningen for seven years already. "At first I thought: Groningen is in the North. It must be cold there, the people might be stiff. But nothing could be further from the truth. People are very open and the city feels safe."
Just like Rowaid, Afwerki is studying to become a pharmacy assistant. In his studies, he learns how to interact with patients and how to make sure they get the medicine they need. He finds that there is a lot of room for contact between the students and the teachers. There is always the option to study together, and when needed you can ask the teachers to help you.
A thing that is very Dutch to Afwerki, is the fact that the people in Groningen respect the concept of time. When you're meeting a Dutch person at 1 o'clock, they will definitely be there at 1 o'clock. Although in Afwerki's home country the concept of time is a little bit less strict, he likes the way Dutch people handle their time-management. "It really feels like the people here are careful with their time, which also results in them working very efficiently."
Next to his studies, Afwerki works at Thuisbezorgd. He delivers food to people's houses on his bike. The fact that this can be done by bike, like many other things in Groningen, is something that he loves. The cycling keeps him active, and since Groningen is quite compact, everything can be reached in a short period of time. Through his work, Afwerki met some of his friends. But he also likes to talk to his neighbors. "If I have questions or need help with something, I can always ring the bell at my neighbour's house."
Something that surprised Afwerki was the typical Dutch wooden shoes. Occasionally, you can spot someone in the Groninger streets wearing the Dutch clogs. These days they are not completely made out of wood anymore and they are no longer bright yellow, but it's still a funny sight to see people walk in them. Another aspect that Afwerki noticed about Dutch people, is that they say 'ja' a lot, meaning yes. Even though Dutch people are not agreeing with you, they will say 'ja' during conversations. "It's almost used as a blank word" Afwerki smiles.
The atmosphere in the city center is one that cannot be found somewhere else. From the Noorderplansoen to the Grote Markt, people are very open according to Afwerki. "Just ask and they are always willing to help you." He encourages new people in the city to not be afraid. "The city feels very safe and there are tons of possibilities for everyone."